Hello friends!
I am back with a
techniques (or two) on a Tuesday
and that is TODAY!
The stamp feature in today's feature is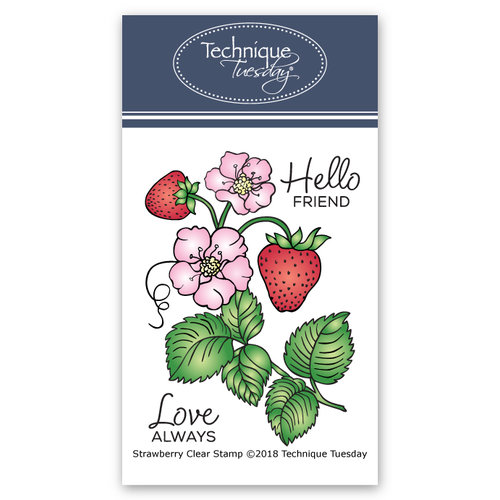 Technique Tuesday - Strawberry
from:
Scrapbook.com
You can find the latest Technique Tuesday products
here at Scrapbook.com
here at Technique Tuesday
I decided to use the entire stamp to create a
soft and colorful background
.
I just love how Distress Oxide can help with stamping and ink-blending.
I do have one tip for stamping background like this.
Ding---> start with the main image that you want and then work the rest AROUND it.
That way, you will not struggle with odd and empty space. Be sure to tilt your stamps or paper while you stamp, too! This will make it more visually-appealing!
As you can see, my stamped images are not completely clean and crisp.
But that's OK...because I really just want to have a play and not having to fuss about the details.
That's really what stamping is about--explore anything your heart desires with stamps and forget about the rules once in a while!
Allow yourself to make imperfect impressions. It's absolutely fun and freeing!
Thank you so much for spending a few minutes with me in my blog today!
Scrapbook.com offers FREE shipping with order over $60.
FREE Shipping on orders $60+ (Coupon Code: SHIP62618)
shop

here
Today you get FREE standard shipping on any order of $60 (or more).
Shop for any items you want in the Scrapbook.com Store then enter coupon code
SHIP62618
during checkout. All shipping costs will be removed from your order.
*
Expires June 28th at midnight PST.
*Please note: If your shipping address is outside of the contiguous US, enter code
SAVE62618
at checkout to get
$6 off your orde
r discount instead.