Hello friends!
If you arrive from the blog o
f Colleen Balija,

you are in the righ
t place.
Featured products
used in this card:
PAF Zinnia Magellan Rose, Simple Shapes Cover Die, Artists' Watercolor 24 Pan Set, Hawaiian Shores Brush & Fine Tip Pens
This is a large set of stamps that you can color as much/little as you want. I used Artists' Watercolor 24 Pan Set and Hawaiian Shores Brush & Fine Tip Pens.

I am not gonna lie.... it did take me a while to color the image because I am still quite poor with coloring detailed image. However, the flowers are so gorgeous that even mini me can manage it!

Now you might think it's strange to use a cover die like this. I decided to use the outer frame for the image.
It is certainly different way of using the cover die. Perhaps this gives you some ideas on stretching your cover dies?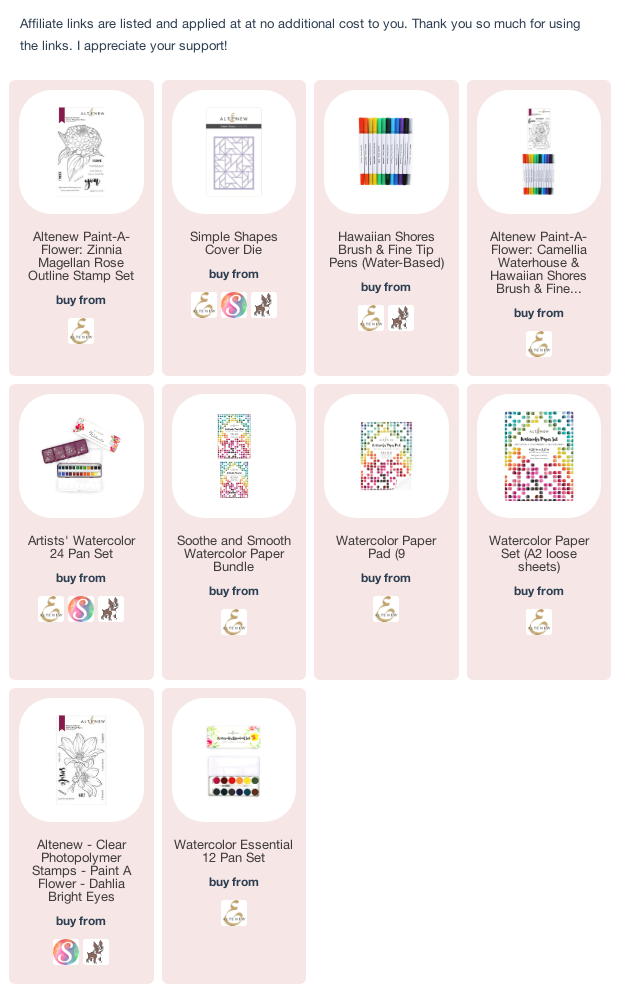 Giveaway Prizes: $200 in total prizes! To celebrate this release, Altenew is giving away a $50 gift certificate to 2 lucky winners and a $20 gift certificate to 5 winners! Please leave a comment on the Altenew Card Blog and/or each designer's blog post on the blog hop list below by 03/28/2022 for a chance to win. Altenew will draw 7 random winners from the comments left on each stop of this blog hop and announce the winners on the Altenew Winners Page on 03/30/2022
Thanks so much for stopping by!