Hello friends!
It is my turn to share projects with you over
Altenew Card Blog.
It's time to highlight the background stamp like
Watercolor Frame.
This stamp may look abstract, but it really is easy to use.
(all the supplies are listed at the end of this post)
(shop Simon Says Stamp)
Under the Cherry Blossom
(shop Simon Say Stamp)
Card #1
This simple one layer is truly easy to create.
Once I had the idea to stamp the water-colored circle as the sun, it takes little time to stamp.

I often started with the lightest shades to the darkest. This way, I find it easier to control the depth of colors and correct the shades when necessary.



Like any story-telling, there is "the beginning, the middle and the end".
I like to revise that for card-making..."there is "the top, the center and the bottom". This card clearly illustrates just that.


My 2nd card uses the background circle in a slightly different way.
Rather than just serving as a background, it is now a wreath/frame!

I selected a few ink colors and proceeded to stamp a simple wreath.


Again, a card like this doesn't take much time.
The card appears to be a bit flat after my stamping. I decided to add a small flower and popped it up. I also stamped two stripes underneath the sentiment. It looks so much more balanced, too!
My take-away lesson from this card?
Don't be afraid to experiment with colors.
I normally would not stamp two different types of green in the same design. However, when you stamp
Sea Shore
and
Tropical
inks....you get this gorgeous and bright colors. In a way, you do get the best of BOTH worlds.
Here's a look at the three cards I created with
Watercolor Frame.
I truly hope that this post with simple stamping inspires you. I would very much appreciate that you leave me a comment over
Altenew Card Blog
. Remember that one of you will could win an $15 Altenew Gift Card every month. It is based on the comments that you made in all of my Altenew posts.
Also, the entire release of the Altenew stencils are available now.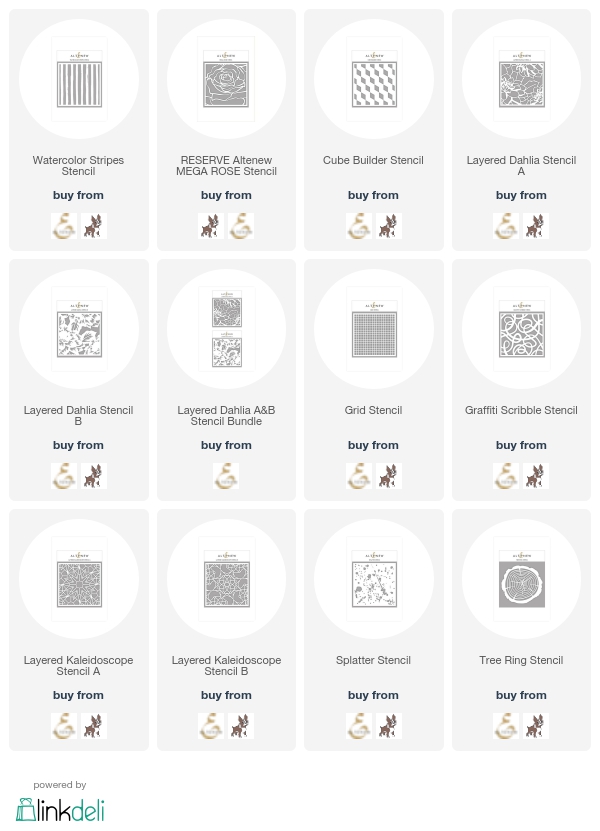 Thank you so much for stopping by!
Here are the supplies that I used for today's projects.