Hello friends!
Warning: photo-heavy post

Welcome to
Altenew Lovely In Lace Collection Release Blog Hop!
I am excited to share one project with you other than the one in Altenew Card Blog.
If you arrive from the
blog of
Carol Hintermeier

, you are in the right place!
All the details about this blog hop, please visit
Altenew Card Blog
Feature products #1: Mariposa 3D Embossing Folder, Sentiment Strip Stamp 3, Metallic Watercolor and Brushes Bundle
This
Mariposa 3D Embossing Folder
is impressive, isn't it? I only used 2/3 of the butterfly and it looks absolutely amazing as is.
I took out th
e Metallic
Metallic Watercolor
and gently colored away. It requires little paint and water to color the image, so I used regular 110 lb cardstock and it worked just fine.
I also shared two other cards over today's Altenew Card Blog. Now that it's springtime, this

Feature products #2
:
Hosta 3D Embossing Folder, Itty Bitty Branches Die Set , Fancy Congrats Die
This gorgeous embossing folder is any plant lover's dream. I started out by inking up the background in assorted green inks. I then ran the
Classic White Solar White Cardstock
with the
Hosta 3D Embossing Folder.
I added a strip of vellum along with the Congrats Die Set. This square card is now perfect for any congratulatory occasion!
With the Altenew ink blending tools, I was able to highlight the Hosta leaves beautifully. Once it's trimmed to 4 1/2" x 4 1/4", I added the watercolored
Itty Bitty Branches Die Set
for colors and accents.
Feature products #3: Cherry Plum Blossom 3D Embossing Folder-Golden Trim Washi Tape
Cherry Plum Blossom 3D Embossing Folder really got me inspired! This card proves just how versatile that embossing folder can be.
I thought the watercolor look will be beautiful with this
Cherry Plum Blossom 3D Embossing Folder
and that's what I did. All you need are
Soothe and Smooth Watercolor Paper
and
Artists' Watercolor 24 Pan Set.
To enhance the details, I highlighted the dry-embossed ridges of the blossoms with the Fine Liner Pen Set (size 01) and Metallic Watercolor 14 Color Pan Set. The Gold Trim Washi Tape-highlighted sentiment (from Victoria Greenhouse) completed the card.

You can get the entire release HERE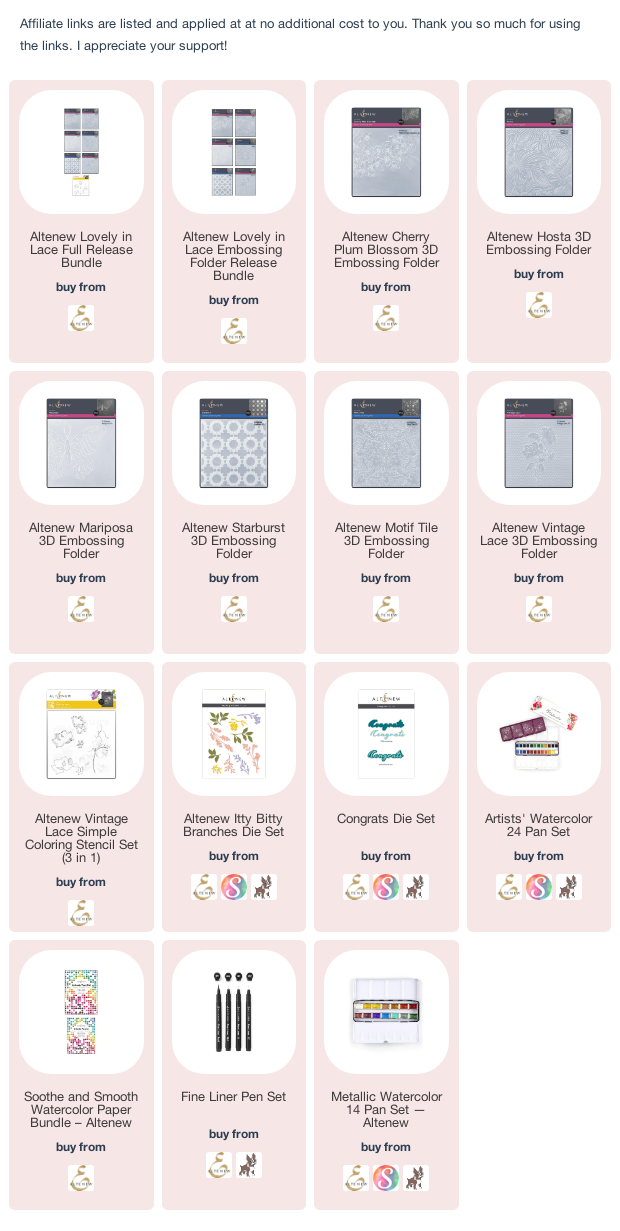 Your next stop is the blog of
Nenette S. Madero
.
Have fun hopping! Thanks for stopping by!