Hello friends!
I am delighted to share an easy and fun stenciled project. You might already know that stencils are quite the trusty supplies for card-making.
You can use a stencil as is, or you can tilt, layer, emboss, dry-emboss... etc.
I am using
Wavy Grid Stencil
as an example. This might help you see the endless possibilities of using a simple stencil.
I started off by sponging the two lightest shades of
Gentlemans's Gray
onto the tilted
Wavy Grid Stencil

.
Starting from the center, I inked up the grey toward the outer circle in one direction. This prevents the ink become blotchy and uneven.
In the same manner, I then slightly offset the stencil and applied
Pink Diamond
and
Pinklicious
(
Cherry Blossom Oval Set
). To add more textures, I decided to add embossing paste over the stencil.
As you can see that the paste is slightly gray. That is because I mixed the
Gentlemans's Gray
with the white embossing paste! I really love the textures that the embossing paste gives!
The stamped images (
6x6 Celebration Paper Pad
) from
Christmas Stockings
were perfect with such a warm and fuzzy background. I carefully popped up the stocking images with foam and embellished with enamel dots and silver thread. One secret: the
Gray Card Stock
will make any designs look amazing! I strongly encourage you to try out your stencils in various ways! I know you will be pleasantly surprised as to how many creative ways that you can come up with. Thank you for stopping by! ps: Today is my birthday! If you really like my posts, I would truly love to hear from you!
Shop here
No code needed to enjoy this deal! Not valid on previous purchases

.
Here are the 3 cards I made with this card kit!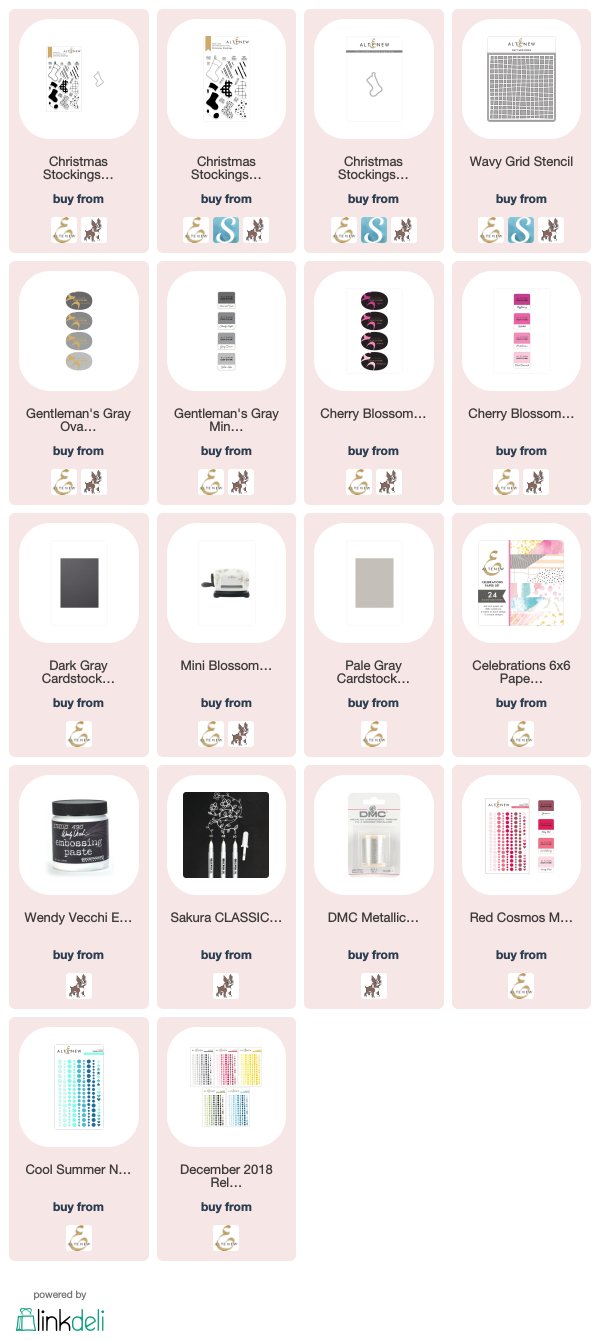 Last but certainly not the least....
I really love these two cards Virginia. Your sweet pea card is totally amazing.
Congratulations, Dawn Turley, please e-mail me at virginia@altenew.com to claim your
$30 Altenew Gift Certificate! Thank you for your positive feedback, everyone!