Yay, it's the Altenew release of Washi Tape and Embossing Paste!
I am super excited to share my project with you.
If you've arrived from
Ashlea Cornell

's blog, you are in the right place! For
For my project, I started out by applying the
Botanical Rhapsody Washi Tape
onto a piece of Altenew Parchment Card Stock. This Washi Tape is SO beautiful that it can be used on its own.
Coloring
Washi Tape with Altenew Artist Markers
Set D
and

Set E

worked like a dream!
Since Washi Tape is non-porous, it will not absorb the artist markers ink.
👉👉👉However, if you wipe/buff it off with a dry paper towel ( I just used my fingers!) it will leave a faint color! 💡 I colored part of the images with 2 shades of markers.
The more you repeat this process, the more intense the colors will become.
Imagine how you can incorporate this Washi Tape into your project with any colors!
I wish I could say that I came up with the brilliant idea of using the Geo Frame Die. But in reality, I made a boo-boo while coloring and there was no way I could wipe it off.
Once the Artist Marker ink dries, it stays!
That's when I decided that I needed to cut out the error and used the Geo Frame for this job!
Yay, go me! 😁 I also applied a piece of

Gold Trim Washi Tape

with the Fancy Hello Die!
That little bit of gold really made this card shine!
Of course, I could not resist using the embossing paste and stencils. I took out Halftone Stencil and applied the new white embossing paste. A note about the paste: it came in the BIGGEST jar of paste that I have ever seen. It was soft and spreadable like butter! Stay tuned for my upcoming post on using the new paste!

(Affiliate links are applied at no additional cost to you. Thank you for your support.)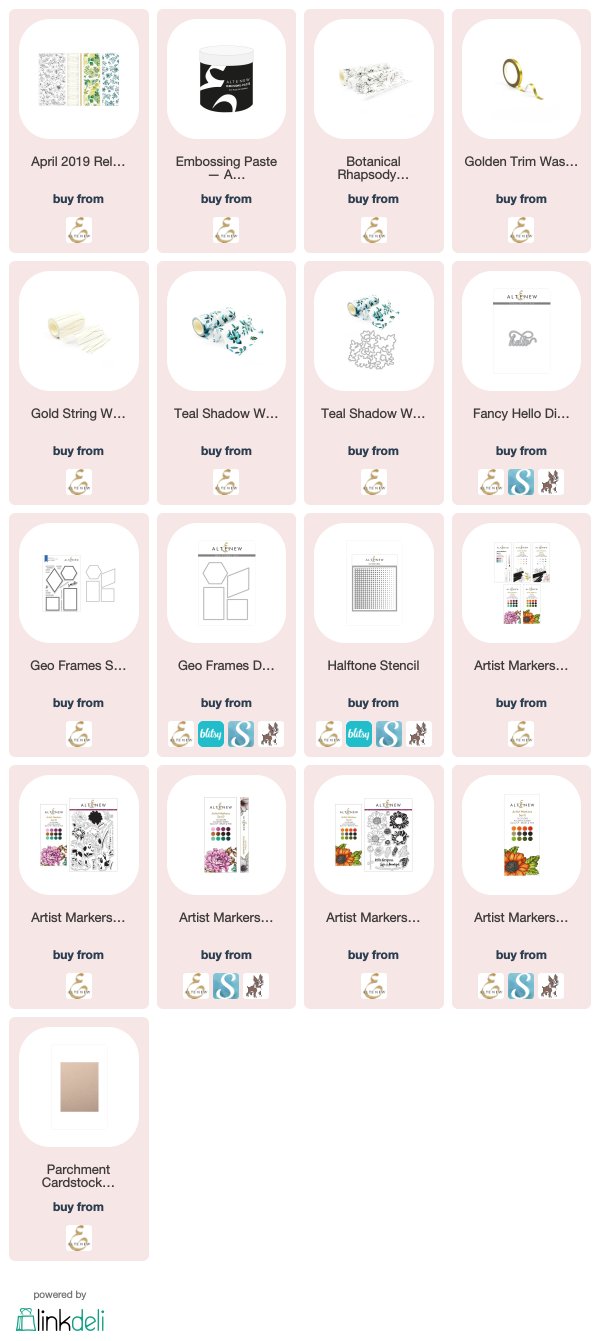 Prizes:

to celebrate this release, Altenew is giving away a $30 gift certificate to 6 lucky winners. Please leave a comment on the Altenew Card Blog and/or Altenew Scrapbook Blog by May 1st for a chance to win!
Extra Giveaway:

Altenew will also draw a winner to receive a $15 gift certificate in each designer's blog (such as my/this blog ) in this release. All winners will be announced on May 4th, 2019.
Today's Blog Hop
I will be back tomorrow for Virginia's

Versatile Vases

(finally back in stock, hurry!)
series!! Thanks for stopping by!