Hello friends!
Warning: heavy photo post
Today is a special blog hop! The Altenew Watercolor Brush Markers now have REFILLS!
I love love these brush markers and am so glad that Altenew offers options to fill up the markers!
I am super excited to share 2 projects with you.
If you arrive from the blog of fabulous Lydia Fielder
,
you are in the right place!
Let's get right to the projects!
I chose to use the refills only to create colorful paper. This is my favorite (and easiest) way to let the colors speak volumes. By adding droplets to the watercolor card stock, I got an instant color mix.
I did just that before I went to bed. When I woke up in the morning, I have all sorts of colorful paper for my use. This can't get any easier.
Based on the color mix, I selected the stamps and methods. As you can see in my first card, I chose to emboss in white with
Pen Sketched Stamps and Die Bundle.
I created several pieces and arranged the pieces and in the end, I thought it looks neat to form an invisible oval in the center. The stamped sentiment perfectly nestled inside the images.

This is one VERY good reason to get the refills because the droplets from the bottles are awesome for creating color paper! I used just a few colors for my projects: Purple Wine, Desert Night, Crimson, Lime and Limeade.


I love the color mix so much and decided to cut out the colorful paper and added my designs.
If you think that you are seeing circles in the paper....
.... you are absolutely right!
for this purpose. Not only it creates subtle dimensions, the clear-embossing also make the colors POP more.
I added a very simple vellum flowers from Simply The Best to the design and white-embossed the sentiment ( from the Simply The Best Stamp Set).
All the details about this blog hop, please visit
Altenew Card Blog

and/or Altenew Scrapbook Blog
I hope that you are inspired by my projects. Please know that these refills are more than just refills. They are your creative arsenals at your disposal.
If you do not already have
Altenew Watercolor Brush Markers,
you can now get the entire selection with
$50 off (valid Sept 20th-21st) !
!!
👉 Shop the

Ultimate Bundle

HERE.

I would very much appreciate if you shop through my affiliate links (all listed below).

For today's project, I used

Spring Garden (top)

and

Tropical Fiesta (bottom).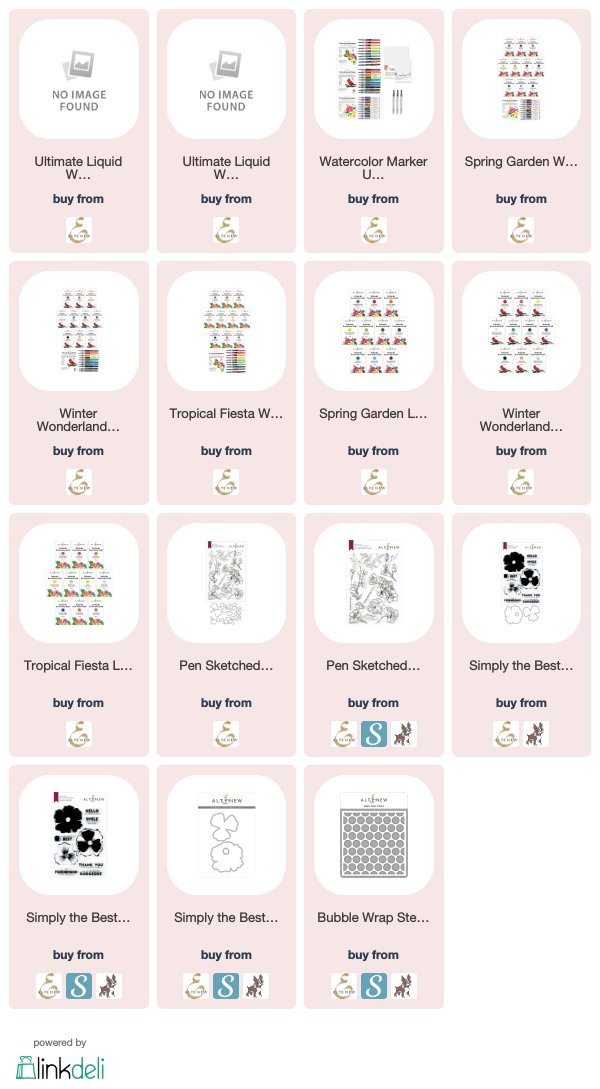 Prizes:

to celebrate this release, Altenew is giving away a $30 gift certificate to 6 lucky winners. Please leave a comment on the Altenew Card Blog and/or Altenew Scrapbook Blog by Sept. 25th for a chance to win!
Extra Giveaway:

Altenew will also draw a winner to receive a $15 gift certificate in each designer's blog (such as my/this blog ) in this release. All winners will be announced on Sept. 27th, 2019
Have fun hopping! Thanks for stopping by!