Hello friends!

Welcome to Craft Your Life Project: Seasonal Blooms Release Blog Hop from Altenew!
I am super excited to share a new projects with you.
If you arrive from the
blog of
Dana Joy

you are in the right place!
All the details about this blog hop, please visit
Altenew Card Blog
Well, are you ready for the awesomeness of this craft kit?
This kit has the stamp, coordinating die and coordinating stencil! Wow...to say that I am overwhelmed by the possibilities of this kit is an understatement!
For my project, I used the
embossing folder
for the entire card front. I then applied inks with the
coordinating stencil
. I then stamped a few tiny images from the
stamp set
. The sentiment "thanks" is part of the
die.
I love love the coordinating stencil as it allows you to color the image with ink! The ink brushes truly is a game-changer as well.
The possibilities for the colors are simply amazing. As you can see, I can use various shades of purple and pink/red/coral, green and yellow/orange.... etc.

The details of that sentiment is astonishing. You can simply use the finest die without the shadow die. Of course, I have a few more to share with this kit and be sure to stop by for inspiration.
BTW the glitter card stock is back in stock! Please see link blow.

Product Description:
Introducing our first-ever Craft Your Life Project Kit an exciting monthly package that is sure to get the creative juices flowing! Featuring a 6x8 stamp set, coordinating die set, as well as a stencil and embossing folder to fit the theme, this project kit has almost everything you need to start crafting. Just add ink and cardstock, and you'll be good to go!
This project kit contains the following exclusive products:
one 6" x 8" clear stamp set containing 13 stamps made in the USA from
high-quality photopolymer
one coordinating simple coloring stencil set containing 3 stencils
one 6x6 3D embossing folder
Note:

These products are NOT sold separately.
🌻Monthly Subscription:🌻
Get early access to our NEW Craft Your Life Project Kit before it is released on our store by subscribing to our Craft Your Life Project Kit Monthly Subscription Plan!
Don't worry if the project kit goes out of stock! When you are subscribed to the monthly subscription, you are guaranteed a spot in our New Craft Your Life Project Kit each month.
The Craft Your Life Project Kit comes with a 6 x 8 Stamp set and its coordinating Die Set, Stencil, and Embossing Folder. Note that the items included in this kit are not sold separately.
The price of the subscription is $49.99/ month plus shipping and tax (calculated based on the location of the shipping address). This will Auto-renew every month until it is canceled.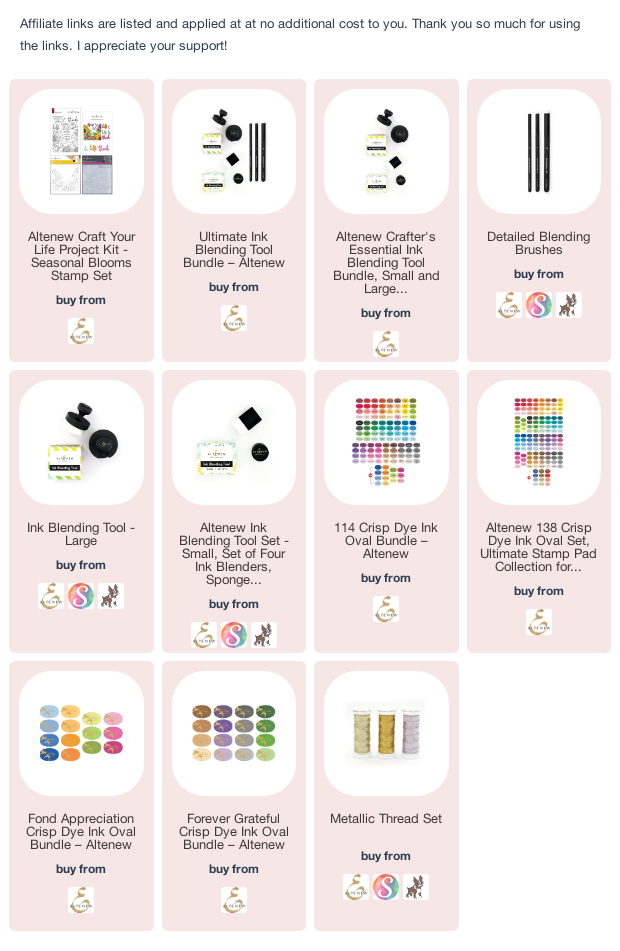 Prizes: $300 in total prizes! To celebrate this release, Altenew is giving away a $50 gift certificate to 2 lucky winners and a $25 gift certificate to 8 winners! Please leave a comment on the Altenew Card Blog and/or each designer's blog post on the blog hop list below by 07/18/2021 for a chance to win. Altenew will draw 12 random winners from the comments left on each stop of this blog hop and announce the winners on the Altenew Winners Page on 07/20/2021.
Have fun hopping! Thanks for stopping by!