Hello, friends!
It's time to share another exciting Altenew Craft-A-Flower with you.
We are celebrating this month's
Craft-A-Flower Dahlia with a blog hop!
If you arrive from the blog of
Jaycee Gaspar

,
you are in the right place.
If not, come and join the fun hop for ideas and inspiration.
As you may know, Dahlia is such a widely popular flowers and comes in many colors.
In order to capture the vibrancy and rich colors, I used "Direct Ink to Paper" approach.

What I was little, I used love RED! I don't think I've used red enough in my card designs. Perhaps as I get old, I am shying away form bold colors and prefer to use less bright and muted tones.


Well, that is going to change...at least in today's post. I took out the red inks and shades and directly inked them on paper.
Once I have created 3-4 shades of colors, I put the Dahlia together and this was it!
I also took the same approach to the leaves. Since the flowers and leave took up nearly the entire space. I need to use something to ground and balance the image. String Art Die provided the solution.
All products links are listed below. Affiliate links are applied at no additional cost to you.
Thank you for your support.
You can purchase the
Craft A Flower HERE
or the following links.
My Altenew Designer shop recommendations can be found
here.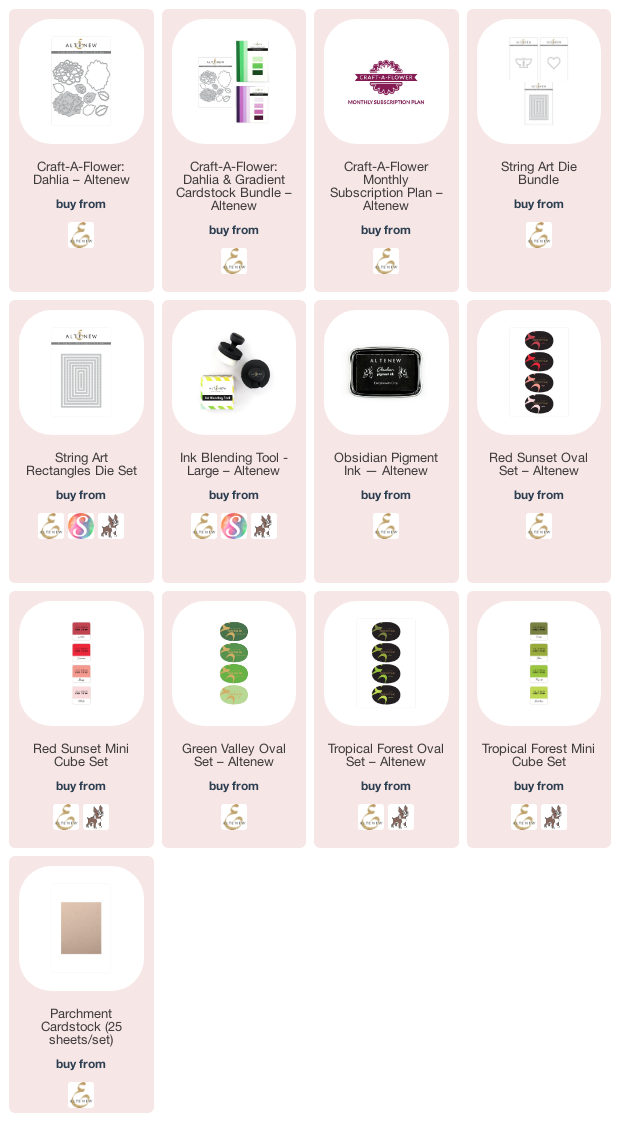 This is a monthly subscription plan for our Craft-A-Flower die
set. When signed up, you are guaranteed a spot in our monthly Craft-A-Flower releases and will receive a set each month - at a specially discounted price! ($35.99 →$29.99

)
Prizes:
to celebrate this release, Altenew is giving away a $30 gift certificate to 5 lucky winners! Please leave a comment on the
Altenew Card Blog
for a chance to win.
AND Altenew will draw a winner to receive a $15 Altenew Gift Certificate from the comments left on each designer's blog on the blog hop list (including mine!)! The winner will be announced on the Altenew Winners Page on July 14th, 2020.