It's an exciting time of the year!!
Altenew is releasing Holiday Stamps and Dies today.
Will you join me in a fun and inspiring blog hop!
?
I am super excited to share 4 projects with you.
If you arrive from the blog of
Alex Syberia
, you are in the right place!
For the details about this blog hop, please visit Altenew's

Card Blog

and

Scrapbook Blog.
First up, it is my favorite stamp set

Holiday Bow Stamp Set.
This set not only comes with a bow, but it has a large poinsettia image as well. It is one of the most versatile set for Christmas card-making. If you want a set that DOES IT ALL, this
Holiday Bow Stamp Set

is it!
I love stamping on kraft card stock because you are instantly immersed in this old-fashioned homespun feel. The old-world joy and comfort are truly what what we crave for, especially during this time of year.
The sentiment comes from
"Mini Christmas Stamp Set"
which
is essential
for all Christmas greetings. As you can see, it fits in a card perfectly.
Of course, holiday card-making is not the same with a little bit of gold embossing with
Antique Gold Embossing Powder.
My 2nd project features this awesome die called
Cozy Flannel Cover Die.
Again, if you love the warm and cozy feeling, this cover die is just the ticket!
Once I made the die cut with the
Cozy Flannel Cover Die
,
I applied assorted Altenew inks on the white card stock. Somehow the color combo reminds me of Christmas candy cane .... :)
To add the focal point, I chose the stocking image from
Christmas Stocking Stamp Set.
The cool thing about the
Cozy Flannel Cover Die
is that you can use it in many ways and will not get tired of using it.
Love Christmas stockings?
Here is my stocking featuring this lovely
Christmas Stocking Stamp Set.
This set also comes with a
matching die (
I think it's a must if you are getting this stamp).
This
Christmas Stocking Stamp Set
allows you to create ANY stockings to your fancy AND there will be no missing socks.....promise!
Don't you love the hanging branches and leaves!?
The
Bountiful Branch
is a GORGEOUS layering stamp set.
I love that you can layer whatever colors that you have in mind.
I took a more modern and trendy color combo and tried my hardest not to add the
RED hollies
...
I think I like it in a softer and muted tones, too!
My 4th projects (
gasp!! are you still with me!!
?)....
features this stunning
"Festive Poinsettia.
I took the liberty in water-coloring the image with
Altenew 36 Watercolor Pan Set.
With the gold-embossed Geo Frame, the image looks more formal and classy.
You can color these poinsettia in any colors-pink, light yellow, red or green...!
With the classy direction, I used
Gold Foil Card Stock
for the layering.
I think it does look very fancy shamancy!!
By the way, the sentiment
"rejoice"
is from
"Blessings".
I will have MULTIPLE cards featuring this Stamp set
"Blessings"
in the next few days!
(Affiliate links are applied at no additional cost to you. Thank you!)
$7 off shipping on orders over $100 with code

SHIP70FF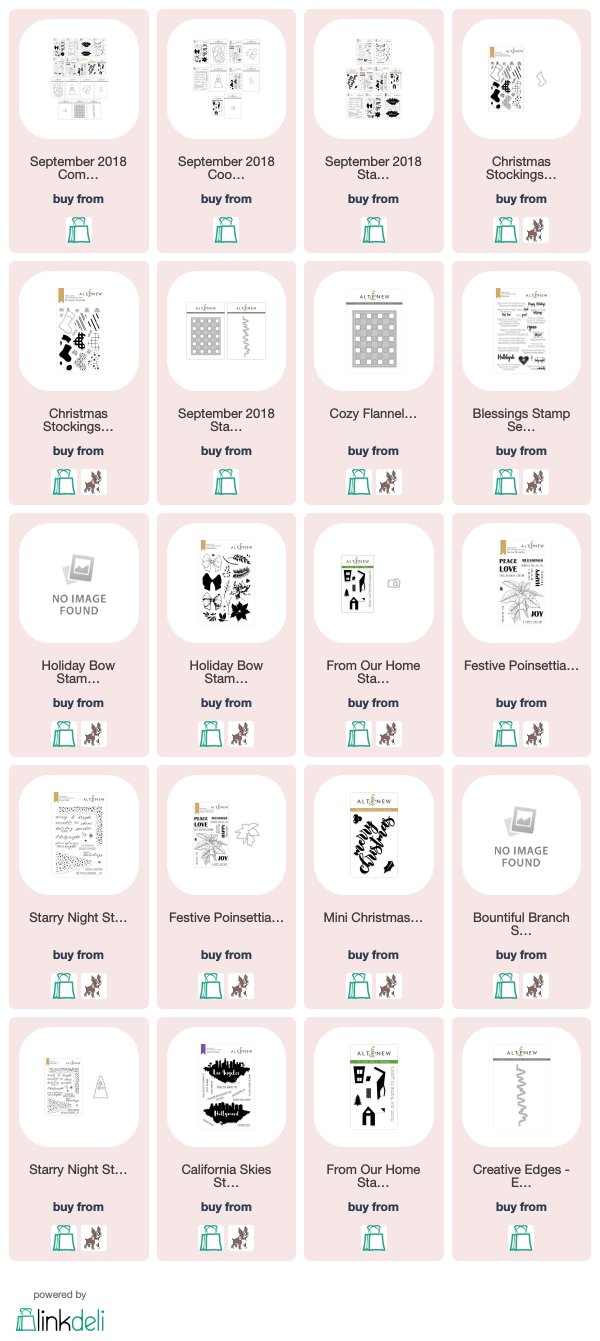 Prizes:

to celebrate this release, Altenew is giving away a $50 gift certificate to 6 lucky winners. Please leave a comment on the Altenew Card Blog and/or Altenew Scrapbook Blog by Sept. 22nd, Saturday for a chance to win! 6 winners will be announced on Altenew blogs on 6/24/2018.
Giveaway: please leave me a comment (and tell me y

our favorite project/stamp/die

) in this very post for chance to win a Altenew $30 Gift certificate. The winner will be announced on

Sept 17th

right here in this blog.
Jennifer McGuire
May Sukyong Park
Kristina Pokazanieva
Therese Calvird
Zsoka Marko
Svitlana Shayevich
Erum Tasneem
Laurie Willison
Sveta Fotinia
Alex Syberia
💚------------>Virginia Lu<------------💚
Paige Evans
Altenew Scrapbook Blog
Laura Jane
Zinia Redo
Agnieszka Malyszek
Anna Komenda
Norine Borys
Keeway Tsao
Kymona Tracey
Vicky Papaioannou
Lilith Eeckels
Mona Tóth
Nina-Marie Trapani
Enza Gudor
Nicole Picadura
Reiko Tsuchida
Sara Nauma
nn
Rubeena Ianigro
If you are shopping for the new stamps and dies for today's post, please click

here.
Your next stop is the blog of Paige Evans

!

I know she has something amazing to share!

Have fun hopping! Thanks for stopping by!