Hello friends!
Warning: Super-heavy photo post
Yay, it's a Stencil Release Blog Hop from Altenew!
I am super excited to share 4 stenciled projects with you.
If you arrive from the blog

of
Svitlana Shayevich

,
you are in the right place!
All the details about this blog hop, please visit
Altenew Card Blog

and/or Altenew Scrapbook Blog
First up, it is my favorite stencil of this release:
1. featured stencil: Broken Chevron
The pattern of this stencil is simply beautiful no matter what angle you look at it.
The Altenew Embossing Paste

i

s just the right arsenal for your stencil project.
Here I added the embossing paste with the Broken Chevrons.
Once the paste was completely dry (the HARDEST part is to wait), I applied the rainbow colors with Watercolor Brush Markers.
If you have never tried embossing paste, this method is a must-do!
For the sentiment, I applied
Gold String Washi Tape
over a piece a card stock.
Then I die cut it with
Fancy Hello Die
with
Mini Blossom Die Cut Machine.
I did stack two more dies underneath the Fancy Hello to make the sentiment stand out and not as fragile. The
Fancy Hello Die
fits the entire design so nicely!
I tilted the stencil in angle and applied all colors and shades with Delectable Delights Oval Ink.
What can I say, the colors blends like
BUTTER!
3
. featured stencil: Illusion Spiral Stencil
I thought it will be cool to use Spray Mist with this stencil and that was exactly what I did.
I used Antique Gold Metallic Spray for this purpose.
This 2-step Heart Builder stencil is just too fun!
You can use any colors for each step.
I applied
Fushia
Pink as my first and
Chamomile
as my 2nd step.
When you see the reveal, you will LOVE this stencil so much that you would want to try any colors!
I used Parchment Paper becuase the colors are so striking!
I also kept the focal point (from Weekend Doodles) super simple.
Hope you like my 4 stencil projects. Do you have a favorite?
You can now get the entire stencil release along with the Altenew Embossing Paste here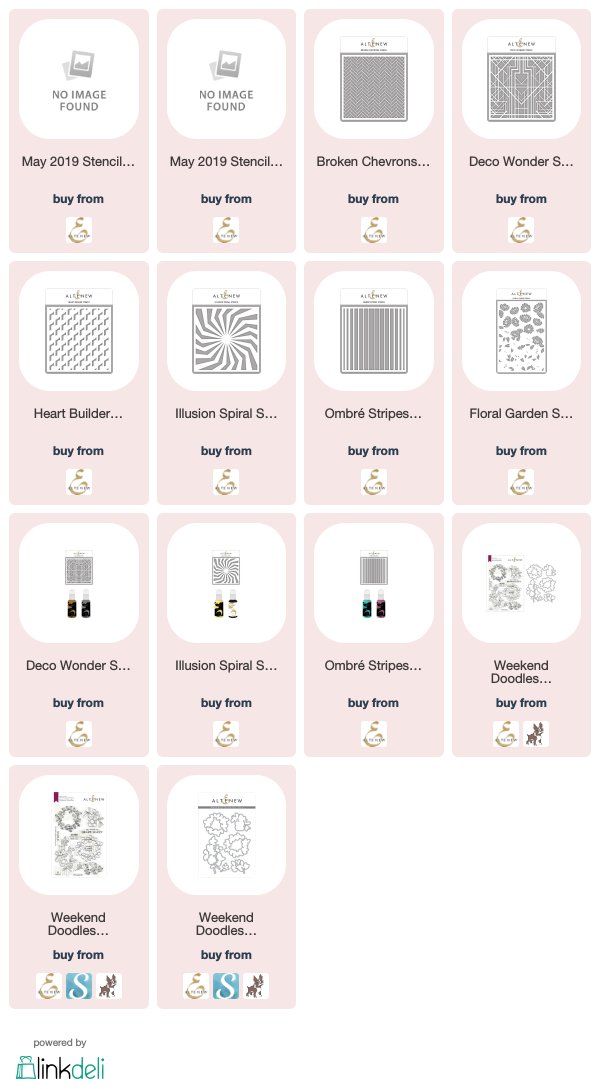 Prizes:

to celebrate this release, Altenew is giving away a $30 gift certificate to 6 lucky winners. Please leave a comment on the Altenew Card Blog and/or Altenew Scrapbook Blog by May 28th for a chance to win!
Extra Giveaway:

Altenew will also draw a winner to receive a $15 gift certificate in each designer's blog (such as my/this blog ) in this release. All winners will be announced on May 31st, 2019.
Your next stop is the blog

of
Lilith Eeckels
Have fun hopping! Thanks for stopping by!