Hello friends!
It brings me a great pleasure to announce the TWO lucky random commenters!
Every month, Altenew offers two giveaway to my followers/readers. I am thankful for your frequent visits and that you take some precious time to leave me a comment. Your feedback and comments are the energy boost that keep me going. Without further ado, here are the two winners
.
From THIS post
conil said...Another technique to try...and soon. Anyhoo, both card are gorgeous. Love the 1st one for the colors and texture and the 2nd for the tropical vibe and always love the details on both.
and THIS post:
Ms. Tamp said...Nice to see ideas for the smaller sets. Great use on the sentiment area.
Congratulations, Conil and Ms. Tamp! Altenew will be in contact with you for the $15 gift card!
Lastly I want to remind you to kindly use my affiliate links (located on 👉 the right sidebar) for your crafting purchase. By using these store links, I will receive a small commission. It will not work if you click on it AFTER (only before) you make the payment. I get a few cents, a dollar or $5 sometimes... this will help me to support this blog and the money do go to my favorite charities (such as Red Cross, World Vision, Canadian Wild Life Association, TVO, PBS...etc). This will not add to your cost when using my links to make your purchase. THANK YOU

I am sharing my top 10 latest and past favorite products of this month and have listed them below (last few items are on sale!).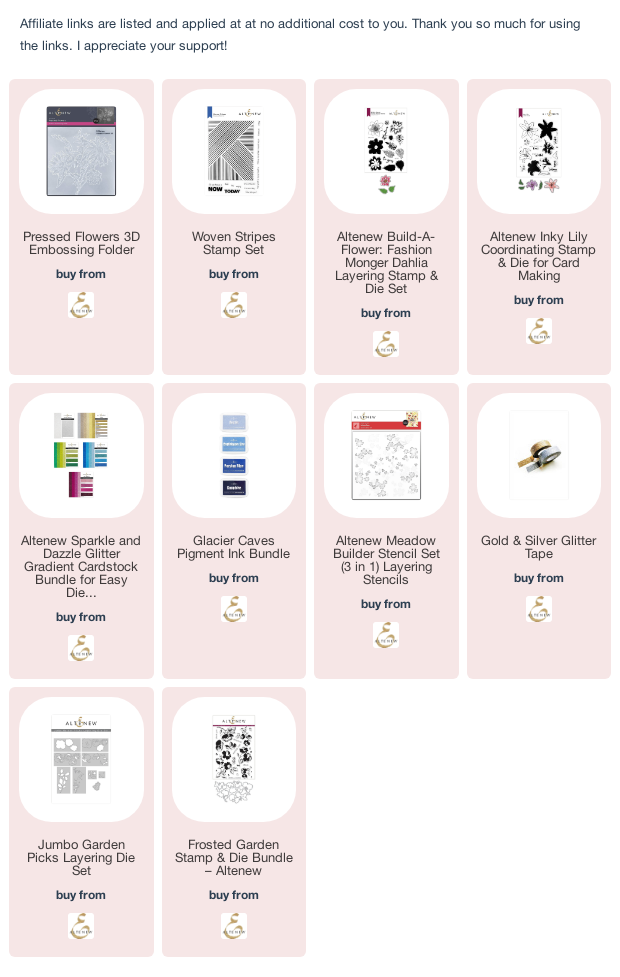 FREE U.S. shipping with code HAPPY08A3 or $5 OFF international shipping with code SHOPPING08A3 at checkout on
orders over $29
from 8/23/2021 at 12:01 am EDT to 8/24/2021 at 11:59 pm EDT. Not valid on prior purchases. Cannot be combined with other promo codes. Check out

HERE
The comment feature in this post has been disabled.