Hello friends!
I am back to share another take with Impressionist Bouquet Stencils and Die Bundle.
This new duo is my latest fav! It allows you to create effortlessly cool projects without breaking a sweat. Here's my card from the latest release. With the extra piece left from this project, I made another.

As you can see, the flowers in this one is slightly more pink than red. I paired it up with the Woven Stripes Stamp Set.
I purposely stamped the background in various shades of blue. This can be easily done simply by blocking the area with paper or Washi Tape.

That piece of silver Glitter Cardstock was added to draw our eyes to the focal point. This pack of Gilded Cardstock is really versatile. You can never have to much glitter, in my opinion.

To me, geometric and floral designs really go hand in hand. They do compliment each other so fabulously. I highly recommend Woven Stripes Stamp Set.
So, what do you think? I hope you like it!
Last but not least, I am happy to share that my son David finally found his dream job! Since his graduation with a Master's degree in May, David did numerous applications and interviews. With his new job, David will utilize his knowledge and skills. Nothing pleases more to see your child fulfill their potential. Way to go, Lu Family (Yes, it does take a village to raise a child).

Receive a FREE brand-new Overlapped Leaves Stamp Set ($4.99 value) with *every order
from 8/29/2021 at 12:01 am EDT until 8/30/2021 at 11:59 pm EDT or while supplies last. The free gift will be added to cart automatically.
Once you finished shopping, please check out HERE (my affiliate link). Thanks!!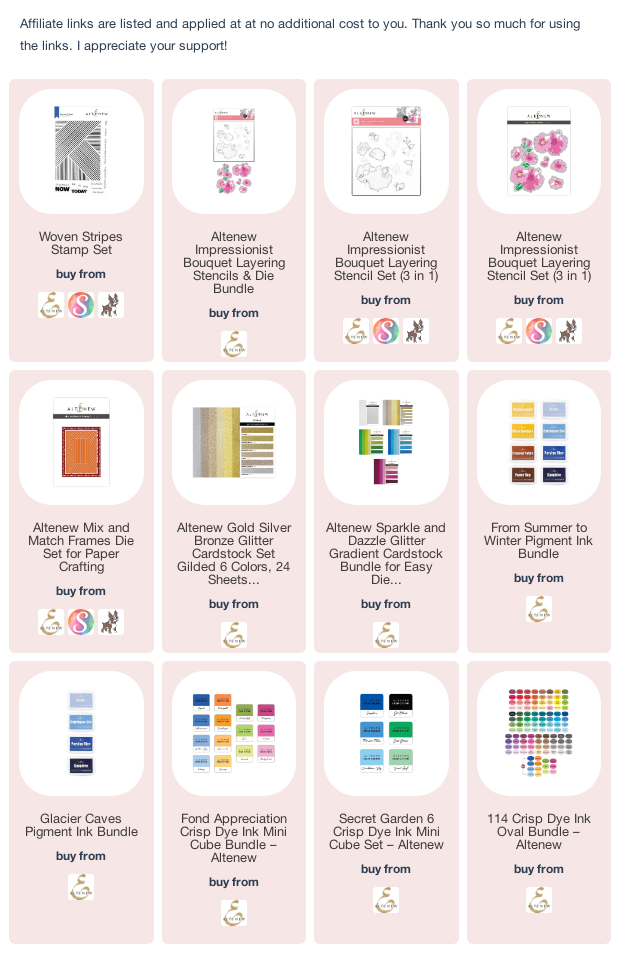 Thanks for stopping by!