Hello friends!
Warning: photo-heavy post
Welcome to Altenew Dynamic Die Cutting Blog Hop!
I am super excited to share my TWO die projects from Altenew with you.
If you arrive from the blog of Gayatri Murali, you are in the right place!
All the details about this blog hop, please visit

Altenew's Card Blog



For today's blog hop, we were asked to share our absolute favorite die(s) from Altenew.
Well, you know that is really impossible because it's like picking your favorite child! 😆
I narrowed it down from the latest with all time favorite...
My latest love for Cozy Flannel Cover Die has not waned!
Cozy Flannel Cover Die
Although you may think it's great for holiday card-making, but I think this die is good for all year round. To prove that, I am sharing two cards with the
Halftone Hearts Nesting Die Set
Here are my examples!
I trimmed off the edges of the frame and then ran the
Halftone Hearts Nesting Die Set
through the machine. I then did the Inlaid Die-cutting.
It is super easy and quick to do thanks to the pattern paper from
Celebration Card Kit.
Noticed that I also added a strip of Gold Edge Washi Tape?
Now that my first card is complete, I took the positive part of the heart die and created another card!
Circle Embroidery Hoop Die Set
This time, I also added the elements from Embroidery Circle Hoop (sentiment and metal clasp without the circle) Die.
I made it like a heart -shape hoop....kind of worked, huh? 😉
It is also fitting to use the die "you are sew amazing" for this card!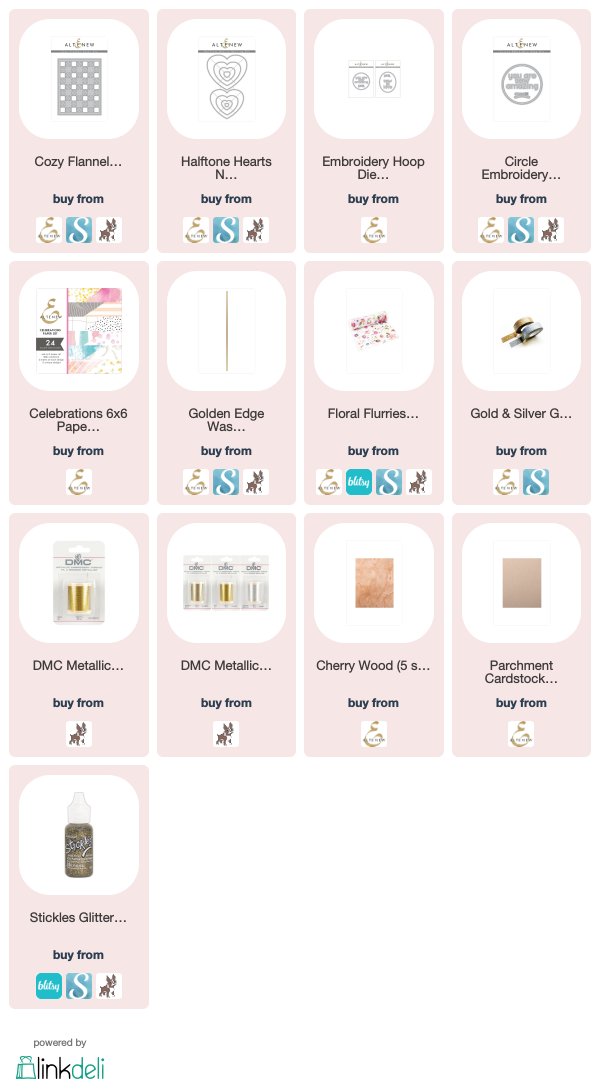 Prizes:

to celebrate this release, Altenew is giving away a $30 gift certificate to 5 lucky winners. Please leave a comment on the Altenew Card Blog by Wednesday, Oct. 31st, for a chance to win! 6 winners will be announced on Altenew blogs on 11/4/2018.
Giveaway: please leave me a comment ( you can tell me your favorite Altenew die) in this very post for chance to win a Altenew $20 Gift certificate. The winner will be announced on Wednesday, Oct. 31st right here in this blog.
Have fun hopping! Thanks for stopping by!